What's in my diaper backpack: Toddler Edition
This post is sponsored by Huggies®. All opinions are my own.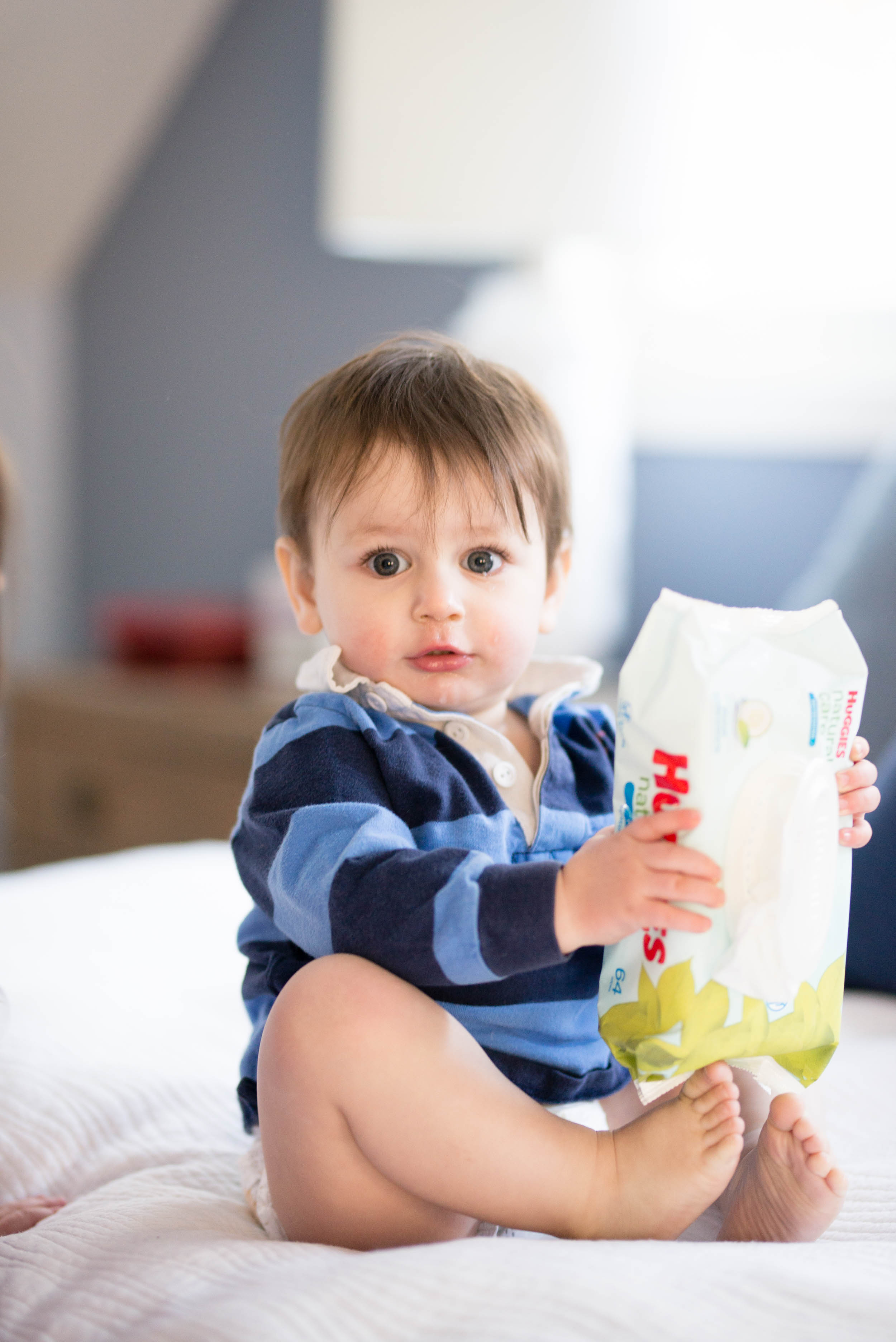 Westley has become a full fledged toddler seemingly overnight and most of us are thrilled about it.
Lincoln loves playing chase with him around the house and Adelaide drags him around on blankets to give him "a ride."
Both parents are happy he's sleeping better at night and I'm the one looking back on baby pictures and wishing I could have a a few minutes snuggling that sweet newborn again.
(Not so) baby boy has spent most of his life at home but as we gear up for our West Coast move (and the pediatrician appointments, airplane rides, and Ikea trips that go with it) I've upped my diaper and wipes game just a little. I buy everything I need from Sam's Club because not only do they have products I love, they have them at the size and price I need. It's also super convenient how I can order online, go in-store or buy curbside all based off of my days schedule and needs.
Here is everything packed into my black diaper backpack at the moment.
wipes: We've been using Huggies® Natural Care™Wipes because Westley has dry, sensitive skin like his sister. I like that they're hypoallergenic, free of parabens, fragrance, and alcohol, and they're made with 99% water (triple filtered water). I've found alcohol free wipes make a HUGE difference in how frequently my kids get diaper rashes and I have loved seeing so many options come on the market since my first baby was born. The quality and price on Huggies Natural Care Wipes cannot be beaten. I use these all the time for tiny hands after eating a snack, wiping off surfaces, and appreciate the EZPull dispensing which makes it easy to grab one with one hand. (Fine them online here https://bit.ly/3pBn3Sc & https://bit.ly/39pBP8Y)
diapers: I picked up my Huggies Little Movers from Sams Club when we grabbed more wipes because the quality and price can't be beaten (and tell me I'm not the only one who likes my diapers + wipes brands to match?). (Find them online here https://bit.ly/3psNDNm )
mask: I usually have one of these in the car and my coat pocket but I keep an extra stashed in my diaper bag just in case.
granola bar: I always have one for me and some kind of bar for Westley (sometimes they're the same).
apple sauce pouch: I don't use these when we're out and about as much because they have the potential to be messy but I keep one on hand just in case.
lotion: Westley and Adelaide have pretty dry sensitive skin so, especially during the winter, I have a small thing of lotion on hand.
changing pad: I don't think I've actually changed a diaper outside of our house and the pediatrician's office for a full 12 months (oh, maybe the beach during the summer?) but I keep this in there just in case.
my straw & water bottle: I keep my water bottle on hand and Westley can use the straw if he needs something to drink.
toy: A car, a ball and an indestructible baby book are usually in the bag or floating around the car at all times.
hand sanitizer: I should have had this always but 2020 made it a staple.
baby powder: This is crucial in the summer after beach trips (removing sand from all the baby's crevices) but it also works for diaper rashes. I keep a small bottle on hand just in case.
honorable mention – a clean onesie: we haven't had blowouts in a while and we aren't gone for long stretches so I don't often keep spare clothes on hand but if you want to be super prepared, it can never hurt to throw in a spare onesie.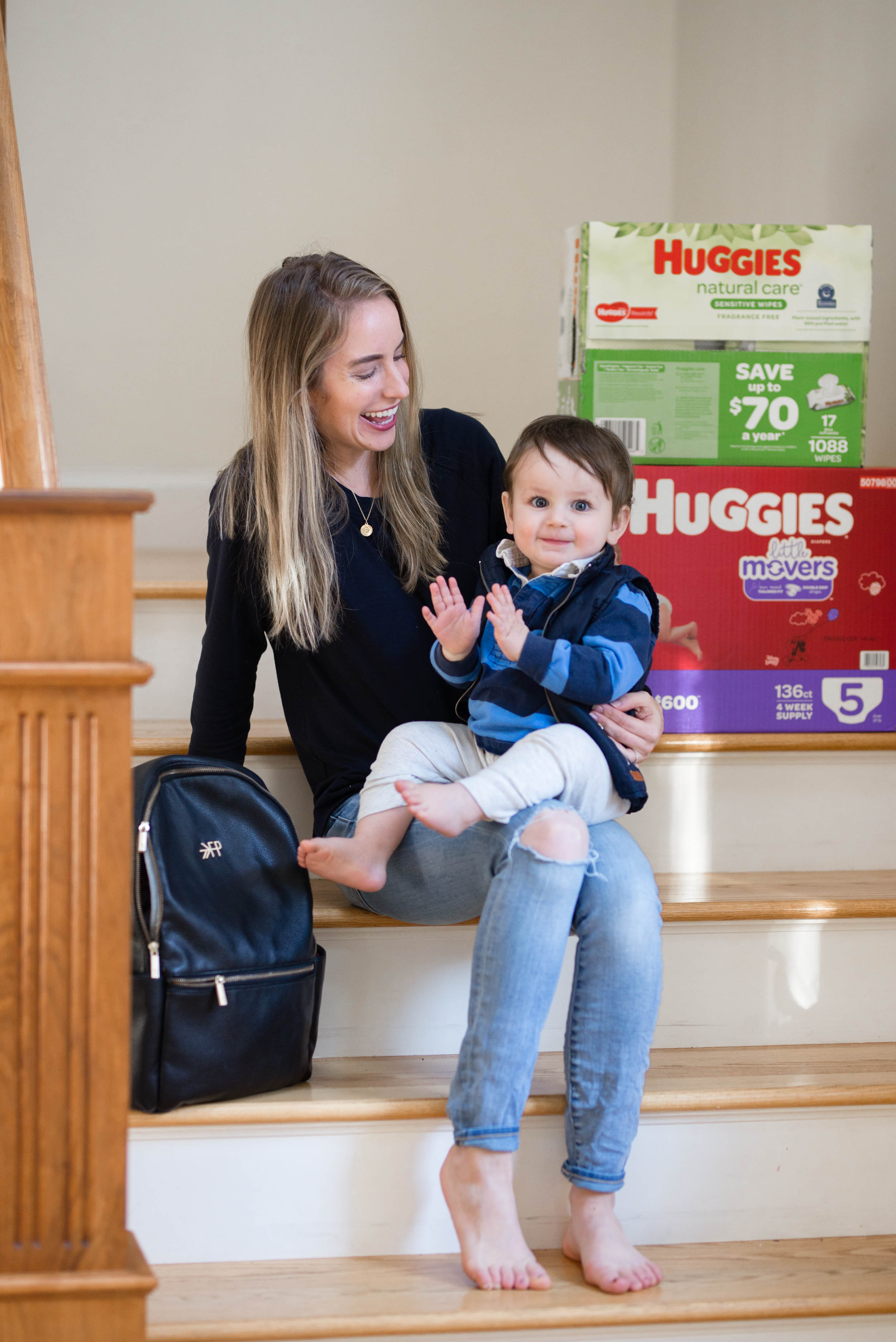 I picked up some Huggies Refreshing Clean™ Baby Wipes infused with aloe and green tea and THEY SMELL INCREDIBLE. Baby products have come a long way since I had my first baby six years ago and these are ones I'm slipping into my own gym bag (when I'm back to the gym).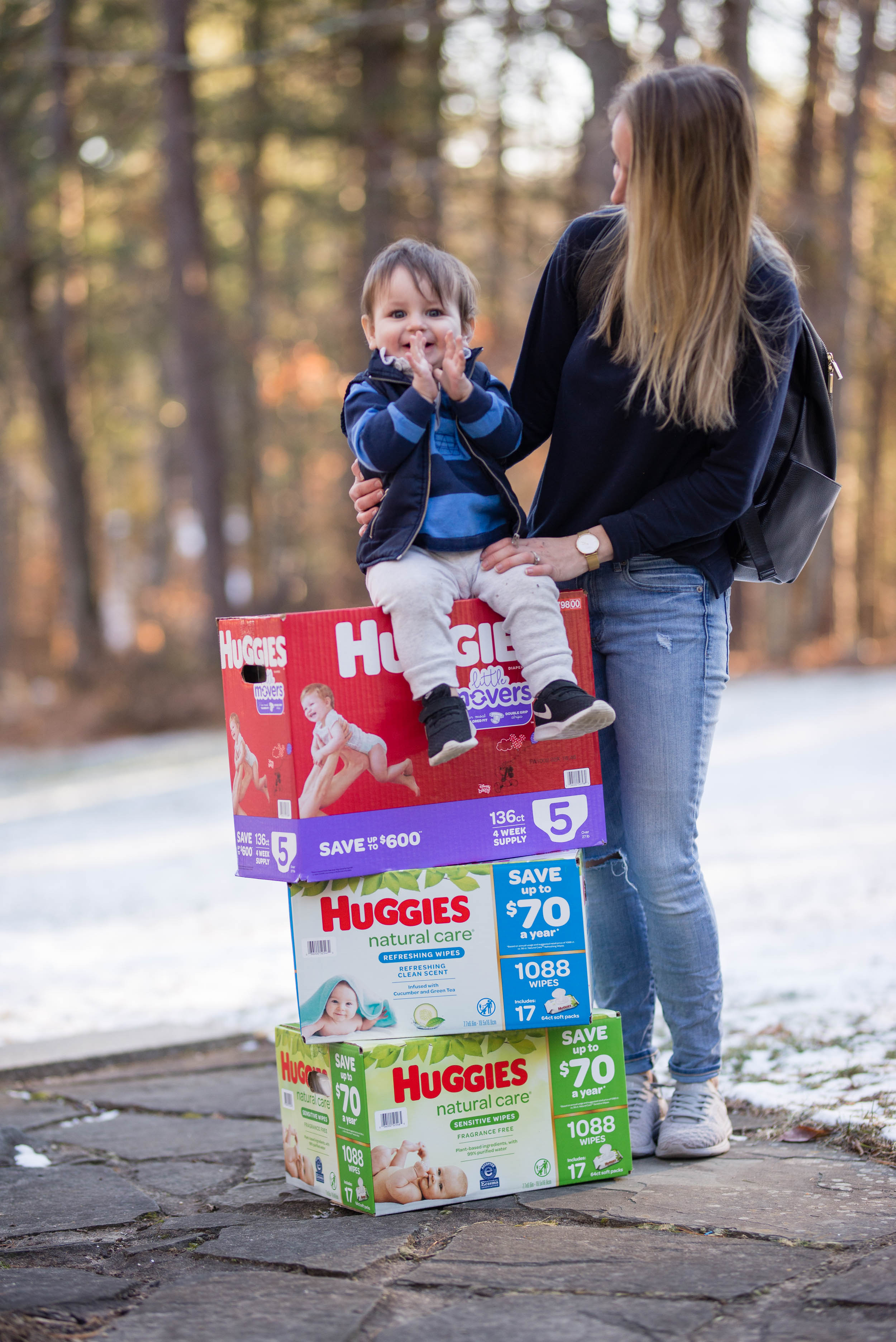 What are your diaper bag non-negotiables?